Public Power Communications Awards
GUC's Public Information Office received two 2019 Excellence in Public Power Communications awards from the American Public Power Association (APPA). One award was for a video campaign and the other was for our newly redesigned website.
The video campaign emphasized the value of GUC. Each video in the campaign (a total of eight) focused on one of our utilities (electric, water, wastewater, and natural gas), as well as customer service. We featured some of our employees' children in the videos to explain how we help our customers and the community. Each video opens with one or two children stating what they think their parent does in their career at GUC. Then the video elaborates on the message, describing how our service is of value to our customers and community. Videos.
Our redesigned website was launched in December 2018. With a goal of making the site as customer-focused as possible, we studied analytics of the previous site. Using that, we designed an engaging new website with multiple pathways to give our customers the information and services they wanted and used the most. Customers and staff alike have given positive feedback about the site's new online chat feature where employees handle questions from customers quickly, easily, and efficiently. We also made sure that the new site works equally well on desktop computers and mobile devices, with full responsiveness. (10/19)
APGA Safety Award
Greenville Utilities' Gas Department was one of 32 gas systems from across the country awarded the 2018 American Public Gas Association (APGA) Safety Award for an outstanding safety record. This makes the 9th year that our Gas Department staff has exemplified worker safety at a national level. APGA's safety award winners are determined by their overall incident (lost work time) rates in a calendar year. Public gas systems are divided into six groups based on the annual number of man-hours worked. GUC falls within Group E with 70,001 or more man-hours. (10/19)
Backhoe Rodeo Challenge
A team of Water Resources employees competed in the Eastern Water and Wastewater Network Backhoe Rodeo at the Bell Arthur Water Corporation Operations Center on October 11th. This annual event gives equipment operators from Eastern North Carolina the opportunity to show off their talents in operating a variety of excavating equipment like rubber tire backhoes and small trackhoes. It's also a great way for operators to test their ability in performing tasks safely and quickly. Six different events took place, and scoring was based on the time taken to complete each one. Penalties were added to the time if the operator dropped a ball or pipe, touched or knocked over a cone, spilled too much water out of the bucket, etc. Representing GUC this year were Water Resources Equipment Operators Michael Silverthorne, Dean Roberson, Derek Averill, Bennie Pittman, and Water Resources Systems Maintenance Crew Leader Josh Setzer. Congratulations to Josh on placing second in the Slam Dunk Event and Michael on placing second in the Ball & Cone Event. (10/19)
NC Area Wide Optimization Award
GUC's Water Treatment Plant received the prestigious North Carolina Area Wide Optimization Award for the fourth year in a row. The NC Division of Water Resources included Greenville Utilities among the 57 out of 149 water treatment plants in the state honored for surpassing federal and state drinking water standards in 2018. The award recognition is a state effort to enhance the performance of existing surface water treatment facilities.
In 1998, the Environmental Protection Agency (EPA) developed new regulations to reduce the risk of biological contamination. EPA then partnered with states to form the Area Wide Optimization Program (AWOP). This program introduced more stringent water quality goals and helps water systems meet those goals. North Carolina has participated in AWOP since 2000 and is one of 23 states to participate. (6/19)


American Gas Association Safety Achievement Award
Greenville Utilities' Gas Department was awarded the 2018 American Gas Association (AGA) Safety Achievement Award for excellence in employee safety. Award recipients are determined based on the lowest incident rate for the number of restricted or transferred days away from work. Companies are placed into different categories based on their size and type. GUC was recognized as one of the best in the Small Local Distribution Company category. "GUC is grateful to the AGA for the recognition of this significant safety achievement," said Anthony Miller, Director of Gas Systems. "We are proud of this accomplishment because safety is our top priority." (5/19)


Communicator of the Year Award
Steve Hawley, Communications Manager/Public Information Officer (PIO), was named 2019 Communicator of the Year by the North Carolina City & County Communicators (NC3C). The award is named in honor and memory of Chris Coulson, a founding member of NC3C, and is presented to a member who demonstrates a passion for making a difference in the profession and in the lives of citizens. Steve was recognized not only for his work with Greenville Utilities, but also his success as PIO for the City of Greenville. (5/19)
Onslow Water and Sewer Authority Thanks
Jeffrey L. Hudson, the CEO of Onslow Water and Sewer Authority (ONWASA) attended GUC's September Board of Commissioners meeting to thank Greenville Utilities for sending an 11-member team to replace broken water mains and make repairs at the authority's water and wastewater treatment plants following Hurricane Florence. He presented GUC with a ceremonial canoe paddle with a handle wrapped in a flag motif and a plaque that stated "for assistance following Hurricane Florence."
AMWA Gold Award
Greenville Utilities received one of the Association of Metropolitan Water Agencies' (AMWA) most prestigious awards -- the 2018 Gold Award for Exceptional Utility Performance. AMWA recognized GUC for its strategic plan and goals, employee workforce development, financial stability, water supply sustainability, exceptional customer service, water quality and environmental leadership, and infrastructure investment and management. Also noted was GUC's commitment to exceeding Environmental Protection Agency regulations and achieving higher levels of water quality. GUC is one of 14 public water systems nationally, and the only one in North Carolina, to be recognized with the AMWA's top utility management awards. (10/18)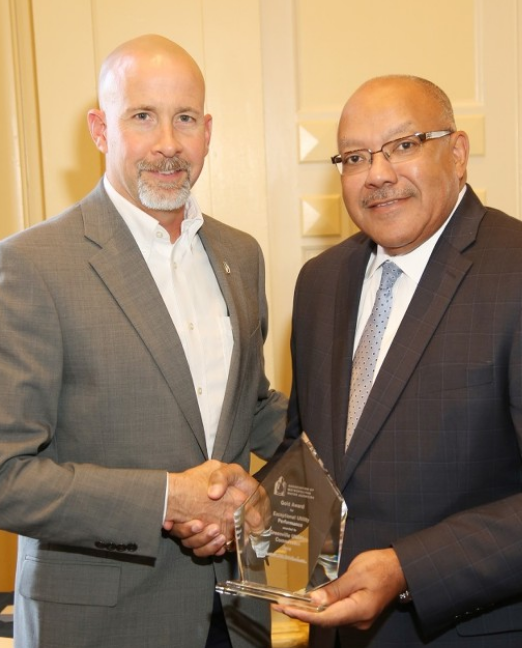 Finance Department Awards
GUC received three awards from the Government Finance Officers' Association (GFOA). The Distinguished Budget Presentation is for the in-depth reporting of our budget. This is the second year we received this award. The Certificate of Achievement for Excellence is Financial Reporting is given in recognition of our Comprehensive Annual Financial Report (CAFR). Organizations prepare a CAFR as a review of the previous fiscal year. We were also recognized for our Popular Annual Financial Report (PAFR), a document designed to make the CAFR easier to understand for those without a finance or accounting background. This is the third consecutive year we received the Award for Outstanding Achievement in Popular Financial Reporting. For the seventh year in a row, GUC's Finance Department received the Sustained Professional Purchasing Award from the Carolinas Association of Governmental Purchasing (CAGP). (8/18)
American Pubic Gas Association SOAR Award
GUC's Gas Department was presented with the American Public Gas Association (APGA) System Operational Achievement Recognition (SOAR) Award. SOAR recognizes a utility's demonstrated commitment to excellence in four areas required to safely deliver natural gas to its customers: system integrity, system improvement, employee safety, and workforce development. Out of approximately 750 APGA members, Greenville Utilities was one of eighteen SOAR recipients recognized this year. We originally received this award back in 2015. (7/18)
APPA Board Representation
GUC's General Manager/CEO Tony Cannon was re-elected to serve another three-year term on the American Public Power Association's (APPA) Board of Directors. APPA is a national organization that provides a range of services and representation for publicly-owned electric utilities. He has also previously served as Chair of the APPA Economic Development Committee and Chair of the Customer Connections Conference Committee. (6/18)
Project Excellence
GUC received the prestigious Expanding Excellence Finalist Award under the category of Best Customer Information System Implementation from CS Week, an international customer service conference organization serving electric, gas, water, and wastewater utility professionals. This award is designed to acknowledge excellence in utility customer service and serves as recognition for a highly successful CIS project implementation. Nominated projects are evaluated on adherence to budget and schedule, operational efficiency after go-live, innovation, and improved service levels. (7/17)
Finance Award
The Government Finance Officers' Association (GFOA) presented Greenville Utilities three awards related to how the Finance Department communicates financial information -- Distinguished Budget Presentation, the Certificate of Excellence for CAFR, and the Award for Outstanding Achievement in Popular Annual Financial Reporting for PAFR. (7/18)
Cigna Carolina's Well-Being Award
The wellness program at Greenville Utilities and the City of Greenville was selected as the Cigna Carolina's 2017 Well-Being Award recipient. GUC was chosen for its commitment to building a culture of well-being. (9/17)
HR Excellence Award
GUC's Human Resources Department received the Agency Award for Excellence from the International Public Management Association for Human Resources (IPMA-HR). This award was established to recognize the overall quality, accomplishments, and contributions of a human resources program that exceeds the normal operation of a good government human resources program. (10/17)
Outstanding Service Awards
Water Resources Systems Superintendent Troy Perkins received several national and state honors on November 14th from the North Carolina American Water Works Association and the Water Environment Association (NC AWWA-WEA). Troy was inducted into the nationally recognized NC Chapter of Five S Society, which honors those in the wastewater field who have made a particular contribution to the industry. Only a few members are selected each year for membership in this prestigious group. He also received the Donald Francisco Educator of the Year Award and the Arthur Sidney Bedell Award for extraordinary personal service to a member association. (11/17)
NCDOL Safety Awards
The NC Department of Labor (NCDOL) and the Greenville-Pitt Chamber of Commerce recognized GUC's efforts to work safely. For some of GUC's departments, this was the eleventh consecutive year earning awards. In all, GUC was honored with 17 safety awards during the NCDOL annual safety banquet. (4/18)
ElectriCities Awards
GUC received Awards of Excellence in the following five categories from ElectriCities of North Carolina: Grid Modernization, Wholesale Power Cost, Workforce Development, Value of Public Power, and Continuous Improvement. (4/18)
STEM Outreach Award
GUC's Human Resources Department received the STEM Career Outreach Award from the International Public Management Association for Human Resources in North Carolina (NC- IPMA-HR). HR was recognized for its focus on educating schools and colleges about the diverse set of Science, Technology, Engineering, and Math (STEM) careers that we have at GUC. (4/18)
NCAMES Rodeo
Electric Department employees brought home trophies from the 57th Annual NCAMES (North Carolina Association of Municipal Electric Systems) Lineman's Rodeo in Morganton, NC. Public power teams from around the state competed in events that test their knowledge and ability to perform tasks safely and quickly.
In the Apprentice competitions, Overhead Lineworker Jordan Hill brought home the first place trophy for the Hurt Man Rescue. Tree Trimmer Spencer Corey placed fourth in the Rope Toss and fifth in the Sidewalk Guy, while Tree Trimmer Matt Board placed 5th in Hurt Man, and Substation Lineworker Remington Gaskins placed 8th Overall. In the Journeyman Division, Underground Lineworker David Guy placed second Overall by placing third in both the Crossarm Change Out and the Jumper Replacement, and an overall perfect score of 400. (5/18)
Water Treatment Excellence Award
The N.C. Division of Water Resources has honored GUC for surpassing federal and state drinking water standards. This is the third time GUC has received the prestigious N.C. Area Wide Optimization Award (AWOP), which is part of a state effort to enhance the performance of surface water treatment facilities. (6/18)