Greenville Utilities Wins Gold for Management Excellence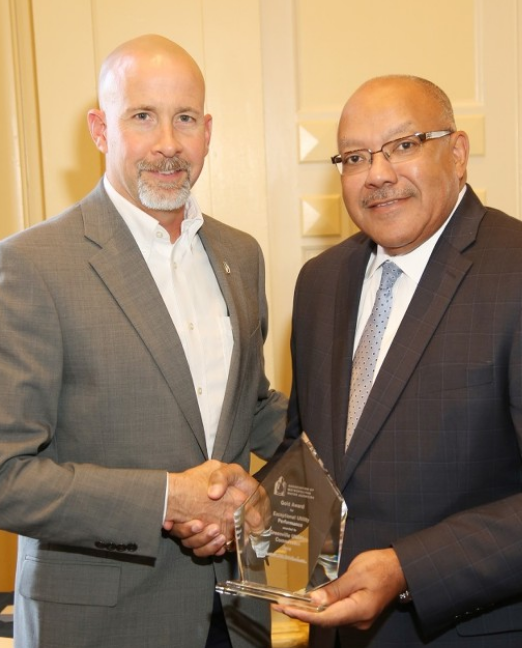 Greenville Utilities Commission (GUC) has picked up one of the Association of Metropolitan Water Agencies' (AMWA) most prestigious awards. The AMWA presented GUC with the 2018 Gold Award for Exceptional Utility Performance.
"This is the first time we have won this award," said Anthony Whitehead, GUC's Water Quality Manager. "It's quite the honor, especially because it recognizes not just the Water Resources Department, but GUC as a whole. Our employees provide exceptional customer service every day and they are our most valuable resource. They are the reason that we were able to win this award. "
"AMWA's 2018 award winners are industry-leading water systems with innovative managers and dedicated workforces who create sustainable utilities marked by high quality, affordable water, responsive customer service and attention to resource management and environmental protection," said AMWA President Mac Underwood, General Manager, Birmingham Water Works. "The accomplishments of these exceptionally well-run public utilities should be a source of pride for the communities they serve."
Specifically, AMWA recognized GUC for its strategic plan and goals, employee workforce development, financial stability, water supply sustainability, exceptional customer service, water quality and environmental leadership, and infrastructure investment and management. Also noted was GUC's commitment to exceeding Environmental Protection Agency regulations and achieving higher levels of water quality.
GUC is one of 14 public water systems nationally, and the only one in North Carolina, to be recognized with the AMWA's top utility management awards.
The Association of Metropolitan Water Agencies is an organization of the largest publicly owned drinking water suppliers in the United States.