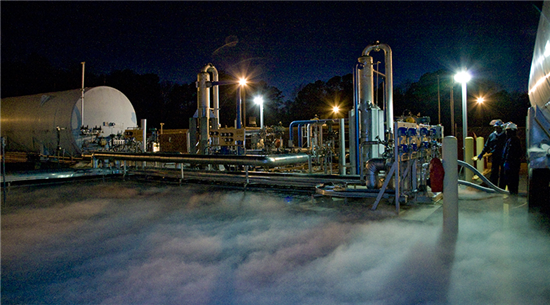 For over 20 years, Greenville Utilities has used Liquefied Natural Gas (LNG) during periods of high demand as a cost-saving measure. In 1997, we built an LNG plant as part of an overall strategy to reduce our dependence on one supplier for peak day volumes, reduce purchased gas costs, and increase reliability. Simply put, we purchase gas when the market is favorable and store it at the LNG Plant until it's needed. This helps us avoid purchasing gas when the cost is higher while allowing us to make sure we meet our customers' needs.
GUC's plant is the only municipally-owned and operated facility of its kind in North Carolina. Currently, there are 58 LNG plants in the U.S. with storage and liquefaction and 40 more like GUC with storage and vaporization.
The LNG plant was last expanded in 2016 to six tanks, for LNG storage capacity of 300,000 gallons. It is currently undergoing an expansion that will add two 70,000 gallons tanks.
What is LNG?
Liquefied natural gas is simply natural gas that has been super chilled (-260 degrees F) to a liquid state. It is re-gasified when needed by heating it until it returns to its natural state. The converted natural gas is then odorized and injected into the distribution system at a compatible temperature and pressure.
The LNG facility consists of a control room building that houses 24-hour monitoring equipment, six 50,000 gallon storage tanks (90 feet in length and 12 feet in diameter), and two vaporization units. When the super chilled liquefied natural gas is vaporized, the plant provides up to 1,000 dekatherms per hour for Greenville Utilities' system. These components are integrated so that the plant can be operated by a minimum number of people, without compromising safety.