Smart Thermostat Pilot Program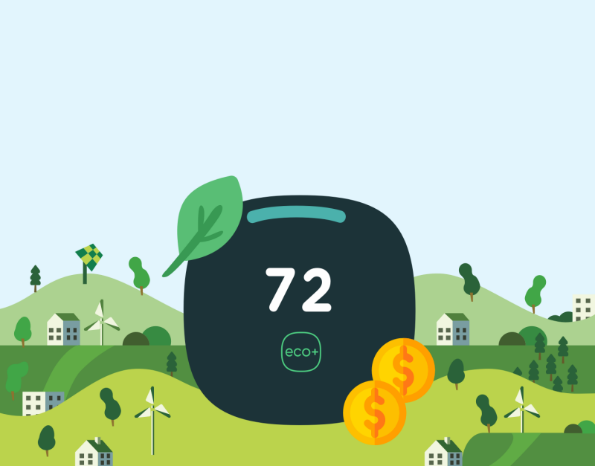 Save energy, stay comfortable, and help keep energy affordable for our hometown
GUC has partnered with ecobee to help reward our customers for using less energy when everyone else is using more. If you have an ecobee thermostat, sign up for the Smart Thermostat Pilot Program using eco+ to automatically adjust the temperature during peak demand periods, while keeping you in control. As a thank-you and added bonus, the Smart Thermostat Pilot Program will reward you with a one-time $50 enrollment incentive, in the form of a bill credit, as well as monthly $5 bill credit for each thermostat enrolled in the program.
Signing up is easy!
Set up eco+

Open your ecobee mobile app to set up eco+ for your home or business. If you don't see an eco+ invitation, select eco+ from the main menu on your home screen, and enable it.

Choose Greenville Utilities

Go to the eco+ menu and enable the

Community Energy Savings

feature.

Identify yourself as a Greenville Utilities customer and follow the prompts in the ecobee app to finish enrolling in the Peaking Savings Program.

Enroll

An offer from GUC will appear on the screen, including the incentive and Program Terms and Conditions. Select "Ok" to enroll in the Program.
Eligibility guidelines:
Customer must be a GUC residential customer.

Customer must be the account holder of record where thermostat(s) is installed.

The Customer agrees to maintain an active account with GUC throughout the duration of the Program.

Customer must not currently be enrolled in GUC's "Beat the Peak" residential load management program with their central air conditioner, heat pump, or electric furnace being controlled.

The Customer certifies that they have a compatible air-conditioner, heat pump or electric furnace in good working order.

The Customer agrees to maintain the connection between their enrolled thermostat(s) through an Internet Service Provider for Wi-Fi connectivity.

The Customer agrees to assist support personnel in resolving connectivity or other issues relevant to the Program.

The Program is a load management program and the Customer agrees to participate in monthly control events of their air-conditioner, heat pump, or electric furnace.

Customer enrollment is limited to two (2) thermostats per account.

Customer agrees to Terms and Conditions

of the Program.
Learn more about ecobee eco+
*GUC reserves the right to amend or discontinue this program at any time without prior notice.