Our Neighbor to Neighbor program meets local needs by providing funds to assist low income families in Pitt County with their heating bills. It's a voluntary program, supported through GUC customers' tax-deductible contributions. GUC matches contributions, up to $20,000 each year.
How It Works
Neighbor to Neighbor is a partnership between GUC and the Pitt County Department of Social Services (DSS). DSS screens applicants, determines eligibility and distributes the funds (up to $200/year per eligible household) during the heating season, December – March. Funds are used to pay for all types of heating fuels (kerosene, oil, natural gas, electric heat, etc). 100% of contributions are used to assist families; there are no overhead costs.
Community Support
Civic and religious groups are encouraged to support the program. The Presbyterian Women of First Presbyterian Church in Greenville are an excellent example. They hold a taste-testing luncheon fundraiser each year to support Neighbor to Neighbor. Over the last 19 years the group has been responsible for $334,584 being contributed to the program.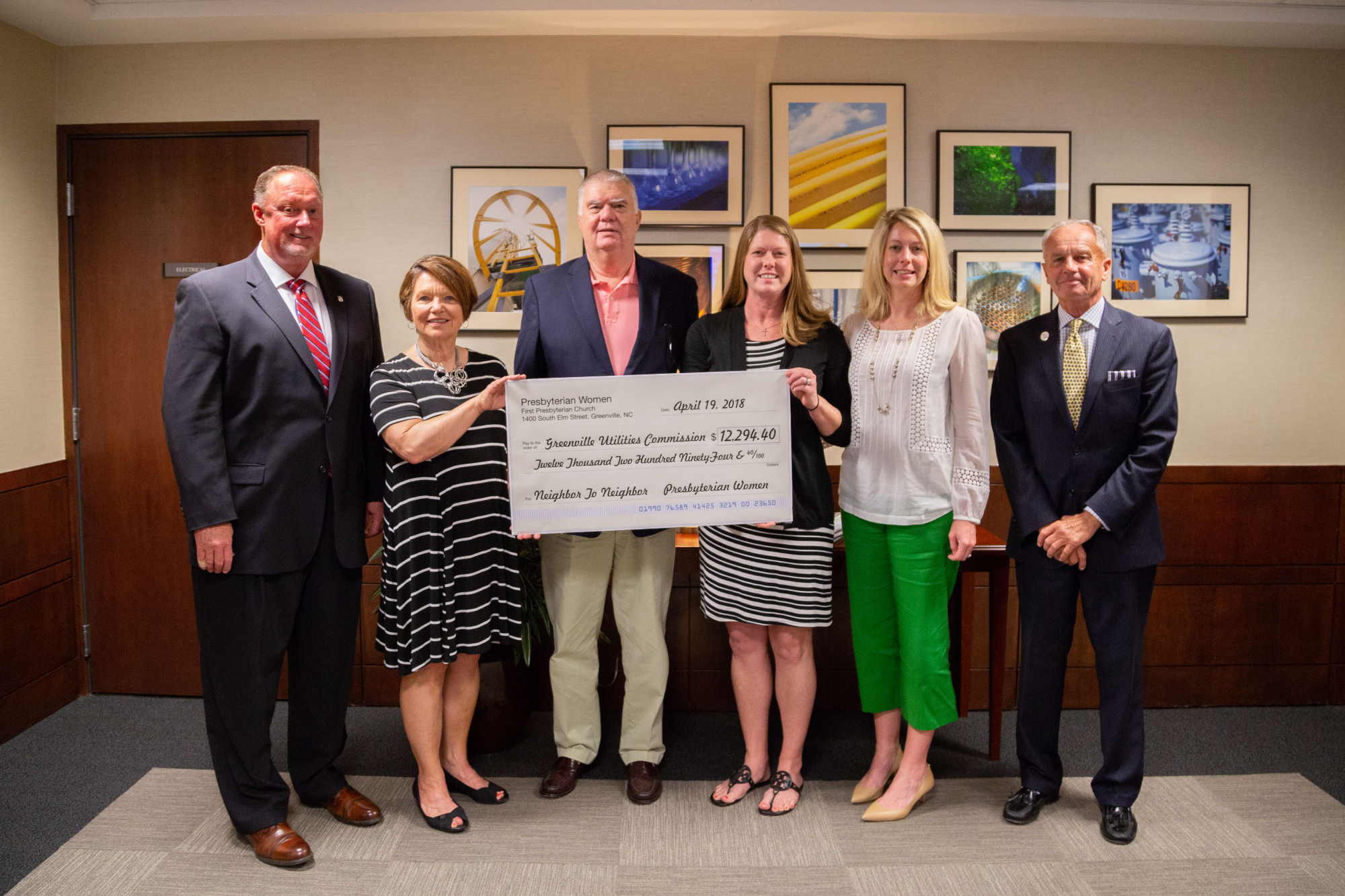 Meeting Needs
GUC's Neighbor to Neighbor program is a valuable resource in our efforts to better serve the citizens of Greenville and Pitt County. These funds assist households that would not be served by the various state and federal programs administered by the Department of Social Services. Many of these households consist of disabled and elderly individuals whose fixed income, though slightly above the poverty level, is barely sufficient to meet their basic needs and woefully short when unexpected medical expenses occur or when extended exceptionally cold weather leads to unusually high utility bills.
Results
Since the program was started in 2001, over $693,195 has been provided in heating assistance. "As a local utility, we are part of this community and pride ourselves on being a good neighbor," said Tony Cannon, General Manager/CEO. "We feel this program provides a means to meet a real need."
How You Can Help
Please consider joining GUC to support those in need. If everyone gives a little, it will make a big difference! Sign up is easy and convenient. You can make an automatic monthly donation of $1, $2, $5, $10, $15, $20 or more to be added to your GUC bill year round, and you can stop or change the amount at any time. You can also make a lump sum donation by check or cash.
Get started right now by completing this enrollment form or emailing us. A GUC representative will contact you to assist you with your donation.
Brochure with an enrollment form you can mail or bring to one of our offices.
Call GUC at 752-7166 and arrange for your contribution by phone.
Come by our Main Office at 401 S. Greene Street or GUC Express at 509 SE Greenville Boulevard and sign up to make your contribution.