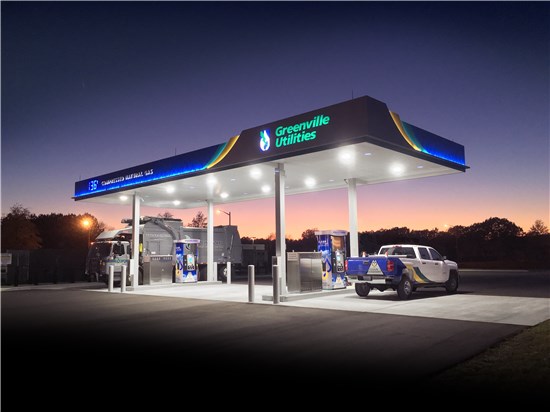 In September 2015, Greenville Utilities expanded its natural gas services to include Pitt County's first public Compressed Natural Gas (CNG) fueling station that offers cleaner-burning fuel for both commercial fleets and personal Natural Gas Vehicles. The fueling station is located at 290 Easy Street in Greenville.
What is Compressed Natural Gas?
Compressed Natural Gas (CNG) is natural gas that has been compressed to 4,000 psi (pounds per square inch). CNG is stored in bottle-like tanks and utilized as vehicle fuel. Equipment at GUC's fueling station takes natural gas from GUC's gas distribution system and compresses it for vehicle use.
GUC Fueling Station Facts
GUC's fueling station makes CNG available for purchase using a MasterCard, Visa, Discover and Wright Express. The facility is open 24 hours a day, seven days a week. The station currently houses equipment to operate two fueling islands, but can be expanded to operate up to four islands if needed in the future. Each dispenser on the island houses one heavy duty nozzle for larger trucks and one light duty nozzle for passenger vehicles.
Current retail CNG Price: $2.609 per GGE
The Benefits of CNG
On average, CNG prices have run 40% less than gasoline.
Natural gas offers less commodity volatility than petroleum, resulting in stable retail fuel prices.
CNG is becoming more available to businesses and residents throughout North Carolina and the United States.
CNG is a cleaner-burning fuel that produces significantly less emissions than gasoline or diesel. Natural gas vehicles provide the following reductions in exhaust emissions: carbon monoxide up to 90%, non-methane organic gas by 50% to 75%, nitrogen oxides by 75% to 95%, and carbon dioxide up to 25%.
CNG vehicle tanks are made of composite aluminum, carbon fiber, or steel, which are stronger than standard gasoline tanks made of sheet metal.
In the unlikely event of an accidental release, CNG is non-toxic, unlike diesel or gasoline.
CNG has a higher ignition temperature than gasoline and diesel fuel.
Local industrial and commercial businesses not only have a less expensive fueling option for their large fleets, but can keep their fueling dollars right here in Pitt County.
Since the installation of the CNG Fueling Station, GUC has been able to help reduce CO2 emissions by more than 3,980 tons.