We're Here for You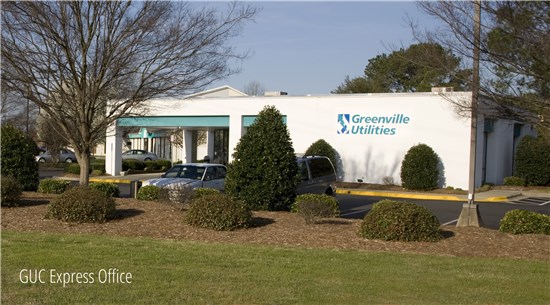 We have two offices where you can take care of all your GUC business – the Main Office and GUC Express. Wherever you are in town, you can easily drop in to take care of business.
Our Main Office is located in Uptown Greenville at 401 S. Greene Street.
GUC Express is located at 509 SE Greenville Blvd., across from Olive Garden.
You can do everything you need to do at either location: start, stop, transfer service; pay your bill; speak with a Customer Contact Representative about questions regarding your account and more.
Each location also has a drop box and a drive thru and for your convenience.
Main Office - 401 South Greene Street
Monday – Friday, 8:00 a.m. – 5:00 p.m.
Drop box located on Washington Street side of building
GUC Express – 509 SE Greenville Blvd.
Monday – Friday, 8:00 a.m. – 5:00 p.m.
Drive thru open Monday – Friday until 5:00 p.m.
Drop box located in drive thru #1
Holidays
Our offices will be closed on the following days. If you have an emergency, call our toll-free Emergency Hotline at 1-855-767-2482.
New Year's - Monday, January 2, 2023
Martin Luther King, Jr. Day - Monday, January 16, 2023
Good Friday - Friday, April 7, 2023
Memorial Day - Monday, May 29, 2023
Juneteenth - Monday, June 19, 2023
Independence Day - Tuesday, July 4, 2023
Labor Day - Monday, September 4, 2023
Veterans Day - Friday, November 10, 2023
Thanksgiving - Thursday & Friday, November 23 & 24, 2023
Christmas - Monday, December 25, and Tuesday, December 26, 2023
New Year's (2024) - Monday, January 1, 2024