Electric Charging Stations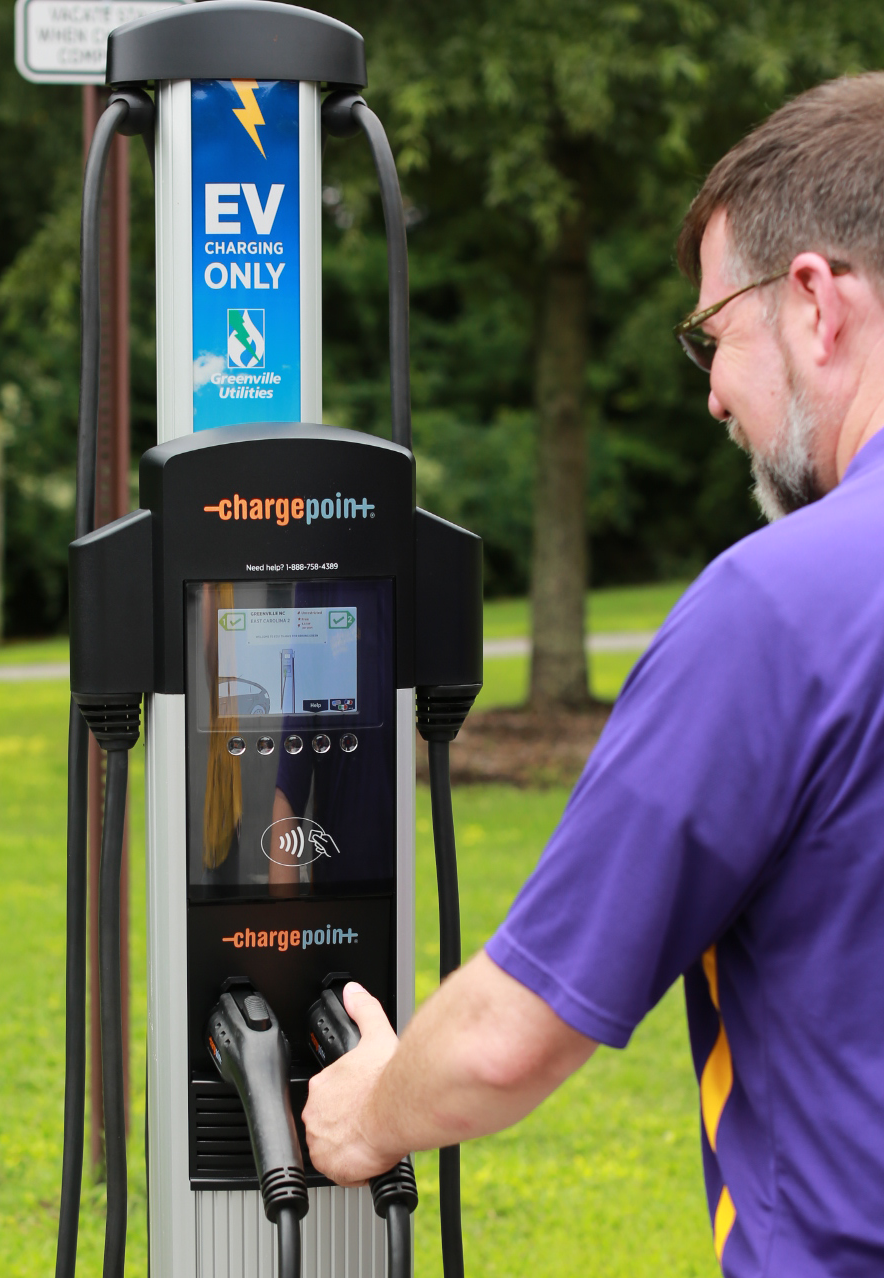 Tesla Model 3. Kia Soul EV. Volkswagen e-Golf. Honda Clarity EV. The list of electric vehicles (EVs) continues to grow as EVs become more popular. According to chargepoint.com, there are 866,777 EVs on the road in the United States and Canada with the number of them in our area growing. That's why we've installed charging stations for our customers in key locations in Greenville, branded with our Clean Future logo. It's part of our mission to provide our services in an environmentally responsible manner.
Two chargers are located on the East Carolina University campus. One is in the parking lot at the bottom on College Hill Drive. The second one is located next to the Austin Building in the middle of campus. The other two are in the medical district. You'll find one near the Brody School of Medicine building, and the other close to the hospital Emergency entrance.
Drivers who have electric vehicles use the ChargePoint website/mobile app to find charging stations when they need to "juice up" their cars. "We were pleased to partner with ECU and Vidant on these stations," said Assistant Director of Electric Systems John Worrell. "GUC provided them, and now ECU and Vidant own and operate them."
In October of 2018, the Greenville Utilities Board of Commissioners approved a pilot program offering rebates for customers who install electric vehicle charging stations. Businesses, educational institutions, multi-family dwellings, non-profit organizations, and governments will be eligible to apply for the funds.
Customers who are approved would receive a rebate up to $1,500 for installing single or dual-port charging stations on their property. Commissioners set aside $30,000 for the program. Rebates will be awarded, as approved by GUC, on a first-come, first-served basis until rebate funds are exhausted.
For more information, please contact GUC's Electric Engineering office at 252-329-2155 or barnesjw@guc.com.