Tony Cannon
General Manager/CEO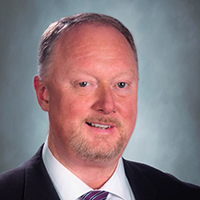 Tony Cannon is the General Manager/Chief Executive Officer (CEO) of Greenville Utilities Commission. He was appointed to this position in 2012, after serving as Assistant General Manager/Chief Operating Officer since 2006. He has more than 35 years of experience in public utilities, joining Greenville Utilities from the Greer Commission of Public Works in South Carolina.
He holds graduate and undergraduate degrees from Southern Wesleyan University. His experience includes management of electric, water, sewer, and natural gas operations.
Tony serves as chair of the Board of Directors for the American Public Power Association (APPA) where he is also a member of the Executive Committee. He serves on the Board of Directors for ElectriCities of North Carolina and as a commissioner for the North Carolina Eastern Municipal Power Agency. He is past chair of the Carolinas Public Gas Association.
Tony serves on the Board of Trustees for ECU Health Medical Center. He is also president of the Executive Committee for the East Carolina University Educational Foundation (Pirate Club). He serves on the Board of Directors and is a past chair of the Pitt-Greenville Chamber of Commerce. He is involved with numerous other professional and civic organizations.