Sandy Barnes, CGCIO
Director of Information Technology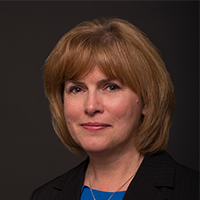 Sandy Barnes has been the Director of Information Technology at Greenville Utilities since 2003. Prior to joining GUC, she was the Manager of Information Systems at Pitt County Memorial Hospital (now Vidant). She also served as the Information Director of Operations, Technical Support Manager, Systems Programmer and Programmer Analyst for Peoples Bank and Trust.
Sandy holds a B.S. in Business Administration: Management and Organizational Development from Mount Olive College. She has also completed the Chief Information Officers Certification Program through the University of North Carolina at Chapel Hill, as well as the Pitt County Chamber of Commerce Leadership Institute. In addition, she has an Associate's Degree in Data Processing from Wilson Community College.
She is a member of Greenville Morning Rotary and the North Carolina Local Government Information Systems Association.