Randall D. Emory, P.E.
Director of Water Resources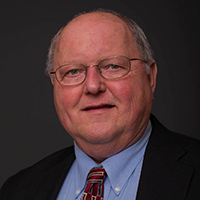 Randy Emory has served as the Director of the Greenville Utilities Water Resources Department since 2003. He has previously held positions at GUC as the Construction/Contracts Engineer and Assistant Director of Water Resources.
He is a graduate of North Carolina State University with a B.S. degree in Civil Engineering (Construction Option) and is a Registered Professional Engineer.
During his career he has worked with and been on the Board of Directors of several consulting engineering firms. He has served as Program Director and President of the Eastern North Carolina Chapter of the Professional Engineers of North Carolina (PENC), a PENC Director and is a former Civil Engineer Corps Naval Reserve Officer.
Randy is a past member of the American Society of Civil Engineers and the Society of American Military Engineers and is a current member of the National Society of Professional Engineers, American Waterworks Association/Water Environment Federation (AWWA/WEF), NCAWWA/WEA, NC Rural Water Association (NCRWA) and the NC Waterworks Operators Association (NCWOA).