Minnie Johnson Anderson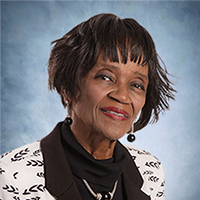 Minnie Johnson Anderson is a retired educator, radio personality, and community-oriented volunteer. Raised in Falkland, Commissioner Anderson received her Bachelor of Science at Elizabeth City State University and her Master of Education from East Carolina University. A certified Principal and Educational Specialist, she taught at many levels.
Commissioner Anderson was Chair of the Greenville Redevelopment Commission and helped with the revitalization of West and Uptown Greenville. She also served on the Historic Preservation Commission and the Board of Adjustment. She gives freely of her time to helping many in need; in nursing homes, the Joy Soup Kitchen, the Winning with Diabetes Committee, and with various groups to help the homeless and young men. Commissioner Anderson was the former radio host on WOOW-Joy 1340's Speak Your Mind program.