Kelly L. Darden, Jr.
Visions in View Mental Health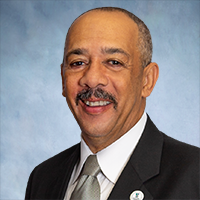 Kelly L. Darden, Jr. is a Mental Health Counselor for Visions in View Mental Health. He's also an internationally-known broadcaster, communications professional, and avid outdoorsman.
Born and raised in Greenville, Commissioner Darden is a graduate of Johnson C. Smith University and the University of North Carolina at Charlotte where he received degrees for Business Administration and Language Arts / Communication Skills. He was one of the first African-Americans to launch and host a nationally-televised outdoor show, Outdoor Moments, which aired on the Outdoor Channel.
Darden has been involved with environmental concerns for many years, having served on the Board of Directors for the North Carolina Wildlife Federation and the Resource Institute. He was also appointed by Governor Beverly Perdue as a Commissioner on the North Carolina Marine Fisheries Commission.