Anthony L. Miller
Director of Gas Systems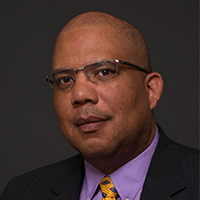 Anthony Miller is the Director of Gas Systems at Greenville Utilities, a position he's held since 1991. He joined GUC in 1988 as the Gas System Engineer.
Before coming to GUC, Anthony worked as an engineer on the AV-8B Harrier program while employed by the Department of Defense at Cherry Point Marine Corp Air Station.
Anthony holds a B.S. in Aerospace Engineering from North Carolina State University. During his career, he has been involved with many professional and civic organizations including the American Public Gas Association (APGA), United Way of Pitt County, Southeast Gas Association, NC 811, Habitat for Humanity, Life of NC, and Vidant Medical Center Foundation.