Ann Wall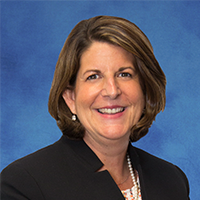 As Greenville City Manager, Ann E. Wall serves as a full voting member of Greenville Utilities Board of Commissioners. She has been with the City of Greenville since August of 2017.
Prior to coming to Greenville, Ms. Wall served as assistant city manager for the City of Charlotte, overseeing four departments which included 3,600 employees and budgets totaling more than $350 million. No stranger to eastern North Carolina, Ms. Wall previously held positions as Assistant City Manager for the City of Rocky Mount, Director of Planning and Community Development for the City of Rocky Mount, Budget and Evaluation Manager for the City of Rocky Mount, Assistant City Manager for the City of Oviedo, Florida, a Budget Analyst for the City of Orlando, Florida, and Management Analyst and Personnel Director for the City of Kinston, North Carolina.
She received her master's degree in Public Administration from the University of North Carolina at Chapel Hill and a bachelor's degree in City Planning from the University of Virginia. Ms. Wall is a member of the International City/County Management Association (ICMA) and the North Carolina League of Municipalities (NCLM). She also serves on the NCLM Planning and Environment Legislative Action Committee.